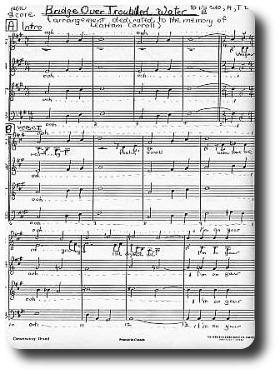 Bridge Over Troubled Water
Composer : Paul Simon
Arranger : Gail Selkirk
Instrumentation and Musicians: Just me!
Background About the Song
This song was written by Paul Simon in 1969 and made it to the top of the pop charts in 1970. It stayed at the top for many weeks, selling over 5 million copies by the end of the year.

If you are interested in reading more about Paul Simon, the following web sites may be of interest to you:
Arranging and Performance Notes
This arrangement of "Bridge over Troubled Water" is also an a'cappella work.

Whereas "Jericho" has a larger than life epic quality to it, "Bridge" is more intimate sounding. It has a smaller number of voices with a lot of inverted harmonies creating tension in the middle of the chords. Using a smaller number of voices makes this technique possible.

An interesting and unusual feature (for a jazz piece) of this arrangement is a classical chamber string ensemble treatment of the vocals in the first verse.
Studio Recording Notes:
We'll provide recording and mixing details shortly, stay tuned...