Main Page
About Gail
About my CDs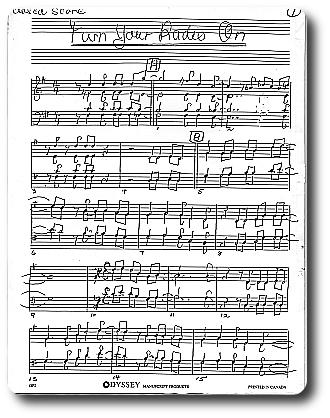 Turn Your Radio On
Music & Lyrics : Albert E. Brumley (1905 - 1977)
Arranger : Gail Selkirk
Vocals : Gail Selkirk

Initial mix of Turn Your Radio On - MP3

Problems streaming or downloading? Click Here.
Background About the Song
This inspirational and very catchy song was written in 1938 by Albert E. Brumley, one of the most prolific gospel songwriters and arrangers ever. Turn Your Radio On became an international hit for Ray Stevens in 1971/72 and resulted in Brumley receiving a Citation of Achievement award from BMI in 1972.

You can read about this remarkable man on the Brumley Music web site and also on the Nashville Songwriter's Foundation web site:
Arranging and Performance Notes
I have this skinny, little gospel songbook with a spiral spine. While searching one day for new songs for the Amazing Grace Jazz Choir, I came across Turn Your Radio On which I had never heard. I played the song through once, felt ambivalent, tossed the book down on the piano and forgot about it. Since everyone in our family plays the piano, the book got knocked to the floor everytime someone played. As it landed, it would fly open to Turn Your Radio On because, I suppose, it was right in the middle of the book. After a couple of days of picking the book off the floor and always having that song staring at me, I admitted defeat, played it and decided it was a cool tune.

I arranged it for 4-part without too much harmonic tension. In fact, the whole shout chorus is simply triadic.

It has a charmingly upbeat, happy southern swing gospel feel that my choir loved to perform. This song is so well written, it was easy to arrange and sing.

The approach taken was to record beautifully sung vocal parts, combine them into a choir and place the choir in an acoustic environment that brings out the richness of the harmonies. A minimalistic approach was used throughout the process, except at a few points in the mix where we added some special effects: echos at the end of a few of the lines... we added them as an experiment, liked how they sounded, so we left them in.
Recording Chain:
Studio Projects C1 Microphone
Manley Labs VoxBox Preamp
M-Audio Delta 1010 A/D
Sonar XL 2.0
Mixing Details:
Each vocal track used the following effects bin insert: We used an EQ tweak to tame the 12 kHz presence peak of the C1 mike.

In a few spots we also used Steinberg's Karlette which is a tape-delay simulator very reminiscent of the analog Echo-Plex units (anybody remember them?) that were very popular in the 70's. We used Karlette to spice up some of the section endings.

Finally, each track had a corresponding 100% wet reverb track blended in with it to create the ambiance of singing in a large church. These reverb tracks were created by using:
Sound Forge Acoustic Mirror - a convolution based reverb
Acoustic Mirror does a wonderful job of creating reverbs based on actual physical spaces - from reverbration impulse files recorded by a stereo microphones set up at the locations you want to capture the reverb from. For Turn Your Radio On we used the reverbration impulse files recorded at Bethel United Church in Boston.

Main bus had one effect which was used for dithering down from 24 bits to 16 bits:
Izotope Ozone - mastering plug-in