Main Page
About Gail
About my CDs
Credits
Links
Happy Birthday - My Web Site is 5 Years Old!
November 25th 2006
Time is the school in which we learn, Time is the fire in which we burn.
- Delmore Schwartz (1913-1966), "For Rhoda" (1938)
November 25th, 2001 was the launch date for this web site. Today is the 5th anniversary of that date and it's time for another review of the site's statistics.
Here's a bar graph summarizing the traffic growth of this site since its inception: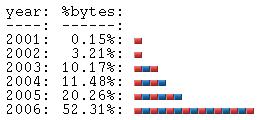 During its fifth year, my site has grown to consist of:
56 pages that contain...
1,519 internal links
216 unique external links
49 MP3 files, 11 ogg-vorbis files (9 complete songs and 40 sample clips, half are Hi-Fi versions and the other half Lo-Fi versions)
Since first putting up my web site 5 years ago, we have received:
a total of 64,840 visitors (up from 38,950 last year)
Over the past 5 years, visitors to my site have requested:
180,042 web pages views
85,299 MP3 file downloads and 8,675 OGG file downloads
Once again, I'd like to express my heartfelt thanks to all my visitors.
Gail