Main Page
About Gail
About my CDs
Chronicles
Our Studio
Stone Soup
Editorial Page
Credits
Links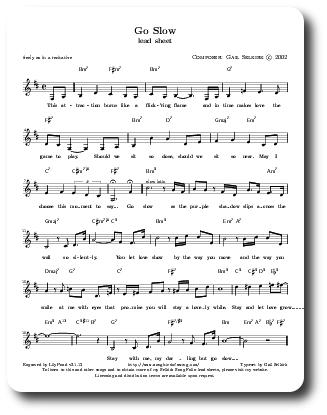 Go Slow
Composer : Gail Selkirk

Instrumentation and Musicians:
Vocals : Gail Selkirk
Piano: Gail Selkirk
Bass: Gail Selkirk
Drums: Jimmy Boudreau
Alto Sax Solo: Paul Fleming
Preview of:
Go Slow - MP3

4.5 MB
Problems streaming or downloading? Click Here.
As well as providing song previews in MP3 format as above, we are starting to try out a new format for song downloads - Ogg Vorbis, which is an alternative to the common MP3 format. We have found that Ogg Vorbis audio files are of a higher quality than comparable MP3 files, especially for low bit rates. It is possible that your media player already supports Ogg format if you are using WinAmp in Windows or iTunes on a Mac.
Lead/Lyric Sheet:
Background of the Song
Go Slow is another of those songs, born of that fateful, flu-ridden, snowy January.
The Gory Details:
I wrote the music first and ended up with a slow, dripping, bluesy thing, begging for good, mushy lyrics - somewhere along the lines of finding yourself in a new and possibly burgeoning love relationship.

The B-minor tonality suggests a luxuriously self-indulgent sentiment that I hopefully parlayed through the lyrics. There was the problem as to which phrases to rhyme because nothing in the melody repeats. Everything just tumbles into the next melodic idea without the standard verse/chorus structure. I seem to travel this musical road quite often and temporarily lose my way.

After feeling rather stumped, I tried to believe that Go Slow could not accommodate words and hey, what's wrong with a pretty instrumental? Huh, nothing. Since, though, the CD is called Gail Selkirk, Songbird of Swing, I thought that every song should have singing in it. So, I got down to business and wrote lyrics and it worked out well.

If you like, take note of the phrase on the lead sheet, "stay and let love grow". It starts with a chromatic climb of C9, Db9, D9, Eb9 and ends on Em9, A13, C9#11, B7 - the melodic pivotal note being F#. I like that device and use it a lot.

Thank you to Paul Fleming who played a superb sax solo and to Jimmy Boudreau for a fabulous drum track.

Take a listen to Go Slow by clicking on one of the links above. Then download the PDF file that contains the lead/lyric sheet, and try it out!