Main Page
About Gail
About my CDs
Chronicles
Our Studio
Stone Soup
Editorial Page
Credits
Links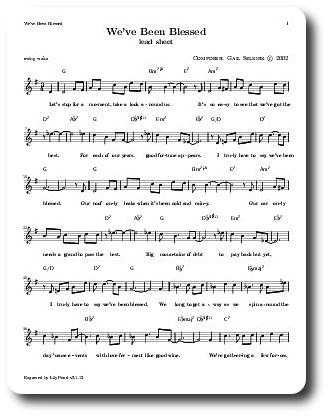 We've Been Blessed
Composer : Gail Selkirk

Instrumentation and Musicians:
Vocals : Gail Selkirk
Piano: Gail Selkirk
Bass: Gail Selkirk
Drums: Jimmy Boudreau
Preview of: We've Been Blessed - MP3

4.6 MB
Problems streaming or downloading? Click Here.
As well as providing song previews in MP3 format as above, we are starting to try out a new format for song downloads - Ogg Vorbis, which is an alternative to the common MP3 format. We have found that Ogg Vorbis audio files are of a higher quality than comparable MP3 files. It is possible that your media player already supports Ogg format if you are using WinAmp in Windows or iTunes on a Mac. If you are, try downloading and playing the Ogg versions of We've Been Blessed and see if you can hear the difference:

Here's a link to the Ogg Vorbis web site if you are interested in finding out more about this new format.
Lead/Lyric Sheet:
Background of the Song
The sentiment expressed in We've Been Blessed is simply that in spite of having bills and debts and an old car and an old house, we're still doing just fine.
The Gory Details:
This jazz waltz in Eb carries a gentle tongue-in-cheek element throughout the whole song.

In order to enhance the "blessed" theme, there is an ecclesiastical-sounding intro' and outro' featuring angelic female voices. Inserting a relative minor vocal "phony-fugue" in the middle of We've Been Blessed brings this playfulness further along.

Take a listen to We've Been Blessed by clicking on one of the links above. Then download the PDF file that contains the lead/lyric sheet, and try it out!