Main Page
About Gail
About my CDs
Drop In (When I'm Not Home)
Chronicles
Our Studio
Stone Soup
Editorial Page
Credits
Links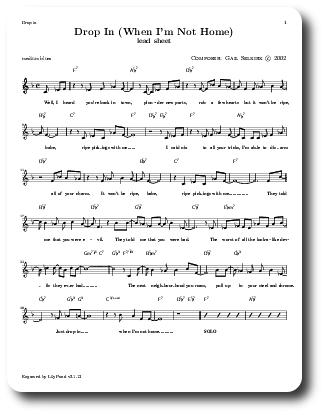 Drop In (When I'm Not Home)
Composer : Gail Selkirk

Instrumentation and Musicians:
Vocals : Gail Selkirk
Piano: Gail Selkirk
Organ: Gail Selkirk
Bass: Gail Selkirk
Drums: Jimmy Boudreau
Preview of:
Drop In (When I'm Not Home) - MP3

3.9 MB
Problems streaming or downloading? Click Here.
Lead/Lyric Sheet:
Background of the Song
Drop In is quite simply a fun bit of nonsense.
The Gory Details:
Since there are thick chords in this little tongue-in-cheek blues shuffle, I contrasted them with plain triadic "power chords" in the two interludes where the voices are singing "aahhhs". These straight triads stand out in relief from all those extended chords.

I used Native Intruments' B4 for the organ. It's a very authentic soft-synth emulation of the Hammond B3 and Leslie that I used to play on stage.

Take a listen to Drop In (When I'm Not Home) by clicking on one of the links above. Then download the PDF file that contains the lead/lyric sheet, and try it out!