Main Page
About Gail
About my CDs
I've Never Landed There Before
Chronicles
Our Studio
Stone Soup
Editorial Page
Credits
Links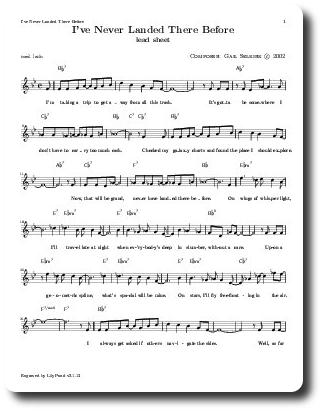 I've Never Landed There Before
Composer and Arranger : Gail Selkirk

Instrumentation and Musicians:
Vocals : Gail Selkirk
Bass : Gail Selkirk
Piano : Gail Selkirk
Guitar : Fred Smith
Drums : Jimmy Boudreau
Initial Mix: I've Never Landed There Before - MP3

4.2 MB
Problems streaming or downloading? Click Here.
As well as providing song previews in MP3 format as above, we are starting to try out a new format for song downloads - Ogg Vorbis, which is an alternative to the common MP3 format. We have found that Ogg Vorbis audio files are of a higher quality than comparable MP3 files. It is possible that your media player already supports Ogg format if you are using WinAmp in Windows or iTunes on a Mac. If you are, try downloading and playing the Ogg versions of I've Never Landed There Before and see if you can hear the difference:

Here's a link to the Ogg Vorbis web site if you are interested in finding out more about this new format.

Take a listen to I Never Landed There Before by clicking on one of the links above. Then download the PDF file that contains the lead/lyric sheet and try it out!
Background About the Song
This is one of the songs I composed while sick with a very bad flu. It does sound rather spacey and feverish!
Arrangement Notes:
A pretty female choir sound in intro' and soli are points of interest. This song and arrangement has a cartoonish, retro, pentatonic treatment. To convey an outer space mood, I used a liberal amount of lydian mode, especially on tag.

I sang the lead in a childish-sounding voice to differentiate it from the classical-sounding backup vocals. These backup vocals with their answering move the piece forward.