Main Page
About Gail
About my CDs
Chronicles
Our Studio
Stone Soup
Editorial Page
Credits
Links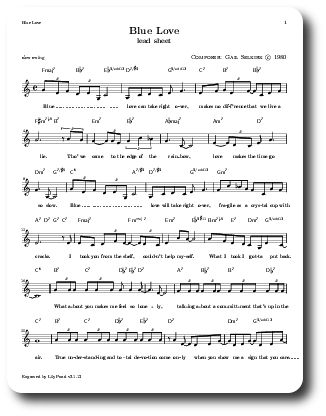 Blue Love
Composer : Gail Selkirk

Instrumentation and Musicians:
Vocals : Gail Selkirk
Piano: Gail Selkirk
Bass: Gail Selkirk
Drums: Jimmy Boudreau
Preview of: Blue Love - MP3

4.1 MB
Problems streaming or downloading? Click Here.
Lead/Lyric Sheet:
Background of the Song
Blue Love was written at Humber College as a theory exercise in 1980.
The Gory Details:
The assignment involved writing a piece using the pentatonic scale. Except for five notes, Blue Love is completely pentatonic. I experimented with the chord progression to make it less sing-songy, yet still very melodic. I also scored it as a big band arrangement.

My eight glamorous "Gailettes" and I should undoubtedly be performing Blue Love at a swanky New York supper club in a classy black and white 1940's movie. Wearing their satin dresses, the "Gailettes" step forward to sing their a'cappella shout chorus. I, in all my glitter, croon to a mesmerized, star-struck audience.

Lots of dark retro sliding chromaticism lend a shadowy spookiness to the overall musical picture.

Take a listen to Blue Love by clicking on one of the links above. Then download the PDF file that contains the lead/lyric sheet, and try it out!