Main Page
About Gail
About my CDs
Chronicles
Our Studio
Stone Soup
Editorial Page
Credits
Links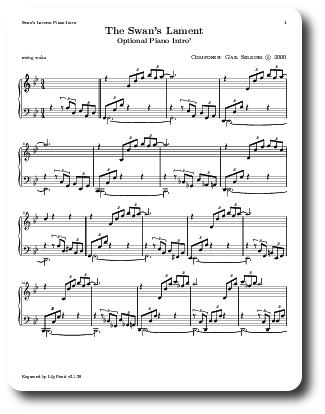 The Swan's Lament
Composer : Gail Selkirk

Instrumentation and Musicians on Demo:
Vocals : Gail Selkirk
Piano: Gail Selkirk
Bass: Gail Selkirk
Drums: Jimmy Boudreau
Soprano Sax Solo : Hal Goodman
Preview of:
The Swan's Lament - MP3

3.8 MB
Problems streaming or downloading? Click Here.
Lead/Lyric Sheet, Piano Intro and Sax Solo Transcriptions:
Background of the Song
The place where I live is known all over the world for its theatre. Swimming gracefully upon the river in this small, picturesque jewel of a city are our famous swans.

"Swans On The Avon" is a stunningly beautiful documentary created and produced by Alan and Kaaryn Gough. These filmmakers asked me to write some of the music for their masterpiece. One of the scenes featured a female swan who, after becoming disoriented and lost on the river, was seen searching frantically for her mate. Fortunately, the pair found each other and were reunited.
The Gory Details:
A sweet, little jazz waltz, The Swan's Lament is enhanced by the subtle brushwork of Jimmy Boudreau and the bluesy soprano sax solo of Hal Goodman.
We spent two months fashionably attired in oversized white overalls, coy nose masks, gorgeous goggles and up-to-the-minute work gloves. It was certainly worth all our sweat. By featuring a piano solo at the beginning, you can hear how sound-treating our room has made the sound of our old baby grand positively sparkle.
Musically, The Swan's Lament was a modest exercise in reharmonization. The first "A" section and the "A" section after the bridge basically share the same melody. The changes in each section are different. While the former has the 17th century ring of Henry Purcell's Dido's Lament, the latter features a downslide chromaticism of Em7b5, Eb7, D7, Db7, C7, B7, Bb7, A7, Ab7,&nbsp Gm.
Take a listen to The Swan's Lament by clicking on one of the links above. Then download the PDF files that contains the piano intro and the lead/lyric sheet, and try it out! Hal Goodman was kind enough to provide a transcription of his beautiful sax solo as well.