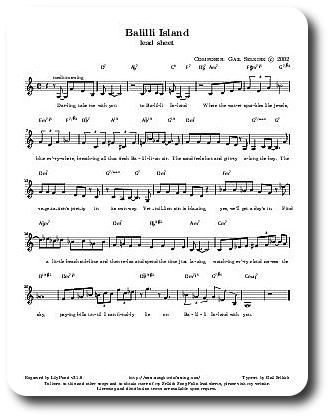 Balilli Island
Composer : Gail Selkirk

Instrumentation and Musicians on Demo:
Piano: Gail Selkirk
Trilogy Acoustic Bass: Gail Selkirk
Vocal : Gail Selkirk
Demo of Balilli Island - MP3

3.4 MB
Problems streaming or downloading? Click Here.
Lead and Lyric Sheet:
Balilli Island was typeset, click here.
Background of the Song
I wrote this song about a warm and sunny imaginary island while recovering from the flu on a cold, snowy day in the dead of winter.
The Gory Details:
O.K., you're a band leader and I'm your piano player for the night. If you want to have a bit of fun at my expense, you will pull out the stunningly beautiful Stella by Starlight. Its m7b5's and delayed resolutions thrill us all and legions of players can solo effortlessly over the changes. But I can't.

Allthough my song bears no resemblance to Stella by Starlight, I would like to thank Mr. Young for the inspiration to write Balilli Island. I treated this song as a very laid-back 50's jazz trio club sound along with the simple classic structure:
head
bass solo
head
If you take a look at the 2 bars "Paying bills until I can finally lie...", you can see that the melody climbs through Dm7b5, then bursts forth on the high G over Db9#11. Starting with those eighths and moving to triplet eighths perceptively slows down the rhythm and the mounting tension holds at the top with the #11 ("lie"). Nothing really resolves until the last chord of the song.
Take a listen to Balilli Island by clicking on one of the links above. Then download the PDF file that contains the lead/lyric sheet and try it out!&nbsp I think you'll find its quirky melody is fun and challenging to sing and the changes are interesting to solo over.